1045 Steel General Information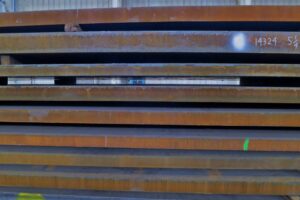 The 1045 steel plate product is often used to manufacture large sprockets and steel gears for the paper industry and other processing industries.  Coal, iron, rock, stone, gravel, and even cement are processed and transported every day using parts made from 1045.  As a result, engineered systems such as moving systems, crushing systems, curing and drying systems handle enormous tonnages of raw materials while processing them into smaller, more refined, or mixed applications.
1045 plate is a chemistry plate, meeting the chemistry make-up listed below.  The "10" designates a basic plain carbon steel and the "45" denotes the approximate carbon content.
Like the 1020 specification, the 1045 steel specification is included in the ASTM 830 family of specifications. The ASTM A830 specification covers approximately 48 chemistry plates, ranging from G10060 – G15520, non-inclusively. 
High Strength Steel
PGI Steel works with design engineers, job shops, parts and machine manufacturing companies, and even processing plants themselves to manufacture custom steel component parts used in the processing equipment that services these industries.  Besides offering higher-strength steels such as 1045, we also manufacture mining equipment parts and other wear plates for systems requiring wear resistance in addition to high strength properties.  We manufacture steel parts according to specifications as laid out by the mechanical engineers for fabrication job shops and for the plants themselves.
Common Uses of 1045 Steel Plate
Common uses of 1045 include gears, shafts, axles, bolts, studs, sprockets, crushing equipment, pulverizing equipment, & precision conveyor system parts, and other machine parts. 1045 steel plate is also suitable for flame and induction hardening. Mill certifications or material test reports (MTR's) are available upon your request. Mill test reports (MTR) and heat charts listing plate specifications, as listed by the manufacturers from the mills and from specific heat cycles from our ovens, are stored in our files, indefinitely.
| 1045 steel chemical composition table | |
| --- | --- |
| % Carbon (C) | 0.420 – 0.500 |
| % Iron (Fe) | 98.51 – 98.98 |
| % Manganese (Mn) | 0.600 – 0.900 |
| % Phosphorus (P) | ≤ 0.040 |
| %Sulfur | ≤ 0.050 |
| | |
| 1045 steel physical properties table | |
| --- | --- |
| Steel Type | medium carbon |
| ASTM Designation | ASTM 1045 |
| Common PGI Inventory | 0.375″-3.50″ inquire for thicker plate |
| Minimum Yield Stress (ksi) | 45 |
| Average Tensile Strength (ksi) | 81.9 |
| Elongation at Breakage | 16% |
| Brinell Hardness | 163 |
| Knoop Hardness | 184 |
| Approximate Hardness (Rb) | 84 |
| Vickers Hardness | 170 |
| | |