ASTM A572 Steel Plate
---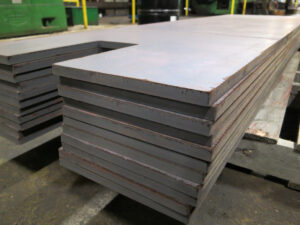 ASTM A572 Steel General Information
The ASTM A572 carbon steel specification covers the standard requirements for Grades 42, 50, 55, 60, and 65 for high-strength low-alloy columbium-vanadium structural steel shapes, plates and bars for applications in bolted, riveted and welded structures in bridges and buildings.  Consequently, the combined use of columbium, vanadium, titanium meet the requirements of the producers and A572 specifications.
A572  most common grade is Gr. 42. PGI also carries A572 Gr. 50.  A more difficult to find Gr. 65 steel plate is also available.
---
Dual Certification – A709 Grade 50
A572 Grade 50 is dual certified to A709 Grade 50.  Carbon Steels A709-50 material is stocked primarily in Flat Rolled Products, but is also available to a lesser extent in Structural and Bar Products.  A709-50 ASTM A709 is fracture critical and covers the requirements for structural steel for bridges and other structures. ASTM A572 Grade 50 steel requires a minimum yield strength of 50 ksi. [/icon_teaser]
---
Common Uses of ASTM A572 Steel Plate
Common uses of ASTM A572: Gusset plates, bridge plates, bearing plates, construction equipment,  transmission towers, machine frames and pedestals, base plates, machine mounting plates, etc.
Looking for a quick estimate on A572? Call us at (888) 934-7463 or submit a Request for Quote now!
---
Precision Grinding Inc. capabilities:
Mill Certifications or Material Test Reports (MTR's) are available upon your request.  Also, Material Test Reports (MTR) and Heat Charts listing plate specifications, as listed by the manufacturers from the Mills and from specific Heat Cycles from our ovens, are stored in our files, indefinitely.
---
| A572 steel physical properties table | |
| --- | --- |
| Steel Type | High Strength/Low Alloy |
| ASTM Designation | A572 Grade 50 |
| Common PGI Inventory | 0.25" – 5.00" inquire for thicker plate |
| Minimum Yield Stress (ksi) | 50 |
| Average Tensile Strength (ksi) | 65 |
| Elongation at Breakage | 18% |
| Approximate Hardness (Rc) | na |
| Approximate Hardness (Rb) | 74 |
| Brinell Hardness | 135 |
| Machinability | 0.72 |
| | |
| A572 steel chemical composition table | |
| --- | --- |
| % Carbon (C) | 0.230 |
| % Manganese (Mn) | 1.35 |
| % Niobium (Nb) | 0.005-0.050 |
| % Phosphorus (P) | 0.040 |
| % Silicon (Si) | 0.150-0.400 |
| % Sulfur (S) | 0.050 |
| % Vanadium (V) | 0.010 – 0.050 |
| | |