ASTM A572 Steel General Information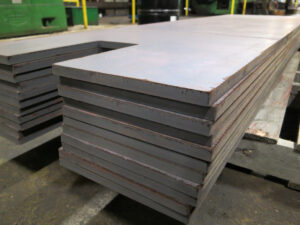 The ASTM A572 carbon steel specification covers the standard requirements for Grades 42, 50, 55, 60, and 65 for high-strength low-alloy columbium-vanadium structural steel shapes, plates and bars for applications in bolted, riveted and welded structures in bridges and buildings.  Consequently, the combined use of columbium, vanadium, titanium meet the requirements of the producers and A572 specifications. Common uses of ASTM A572: Gusset plates, bridge plates, bearing plates, construction equipment,  transmission towers, machine frames and pedestals, base plates, machine mounting plates, etc.                                                                                                         
Dual Certification – A709 Grade 50
A572 Grade 50 is dual certified to A709 Grade 50.  A709-50 material is stocked primarily in flat rolled products, but is also available to a lesser extent in Structural and bar steel products. A709-50 / ASTM A709 is fracture critical and covers the requirements for structural steel for bridges and other structures. ASTM A572 Grade 50 steel requires a minimum yield strength of 50 ksi. 
ASTM A572 / ASTM A709 / AASHTO M270: A Comparison of Grades
ASTM A572, ASTM A709 and AASHTO M270 are three material specifications of steel plate used in bridge building and other specific applications where the physical and mechanical properties of the raw material need to withstand stress and potentially hazardous weather conditions. Steel plate must be certified to a specific standard(s) in order to be labeled as A572, A709 or AASHTO M270. PGI Steel has you covered in this regard as we buy and stock steel plate certified to all three designations.
The American Association of State Highway and Transportation Officials (AASHTO) is the regulatory body that oversees the specifications of M270 steel plate. The American Society for Testing and Materials (ASTM) is the international organization responsible for developing standards for products, including steel and oversees the specifications for A572, A709 and a multitude of other material grades in the steel industry.
AASHTO is a United States based regulatory body, setting and overseeing the standards for design and construction of transportation infrastructure such as, rail, highway, water and air. Projects specifying AASHTO material standards denote that the material will be directly involved in infrastructure for state and local government work in the USA. More specifically, AASHTO certified steel plate is primarily specified and used in the construction of road bridges, whereas A572 and A709 are suitable for multiple end use applications including, railroad, road, pedestrian and bridges.
Mill certifications or material test reports (MTR's) are available upon your request.  Also, material test reports (MTR) and heat charts listing plate specifications, as listed by the manufacturers from the mills and from specific heat cycles from our ovens, are stored in our files, indefinitely.
Chemical Composition
| A572 steel chemical composition table | |
| --- | --- |
| % Carbon (C) | 0.230 |
| % Manganese (Mn) | 1.35 |
| % Niobium (Nb) | 0.005-0.050 |
| % Phosphorus (P) | 0.040 |
| % Silicon (Si) | 0.150-0.400 |
| % Sulfur (S) | 0.050 |
| % Vanadium (V) | 0.010 – 0.050 |
| | |
Physical Properties
| A572 steel physical properties table | |
| --- | --- |
| Steel Type | High Strength/Low Alloy |
| ASTM Designation | A572 Grade 50 |
| Common PGI Inventory | 0.25" – 5.00" inquire for thicker plate |
| Minimum Yield Stress (ksi) | 50 |
| Average Tensile Strength (ksi) | 65 |
| Elongation at Breakage | 18% |
| Approximate Hardness (Rc) | na |
| Approximate Hardness (Rb) | 74 |
| Brinell Hardness | 135 |
| Machinability | 0.72 |
| | |