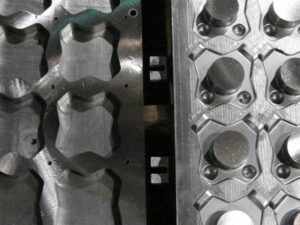 Tool & Die Molding
Steel molding dies allow manufacturers to shape pliable raw materials, such as ceramic materials, composite materials, metals, plastic materials, rubber, and material liquid mixtures through compression, injection, and pressure molding processes.
Mold Base Frames, Mold Cavities, Mold Cores
Usually cut from a pre-hardened die, mold, or tool steel such as 4140 PH, 4340 PH, or P20, mold base frames normally separate into two sides at a parting line allowing manufactured parts to be extracted. PGI Steel makes molding plates from 4140 and 4340 steel, typically in the Rockwell hardness ranging from 28 – 32 to upward of 38 – 45.  These parts provide a long lifespan as they are extremely wear resistant.
These steels can handle the high melting points of the composite liquids or resins poured into these forming cores. Typically, a releasing agent precedes the pouring step in order to facilitate removal of the hardened part from the mold.
PGI Steel provides contract mold making services to manufacturers and job shops serving various industries such as automotive, aerospace, and industrial applications. As the mold maker, we flame cut the mold plates to shape from inventory, rather than saw-cutting  pre-hardened steel flats. Prior to grinding or machining 4140 steel, we may anneal the preliminary mold plates within our in-house car-bottom furnace.
In the case requiring cavities or core drills, we can pre-grind the plates to specified tolerance levels upon one of several Blanchard and Mattison grinders. Depending upon the machining required and the desired hardness, we allow for tempering and quenching in addition to providing annealing services.  We quench and temper 4140 up to approximately 50 Rockwell hardness.
Mold Guiding Components – Distributor
| | | |
| --- | --- | --- |
| Danly Replacement Parts | Compression Springs | Bushings |
| Lamina Replacement Parts | Ball Bearing Components | Pins |
| Mold Component Parts | Plain Bearing Components | Guide Posts |
Complete Quick Change Mold Systems
| | | |
| --- | --- | --- |
| QCM Plates | Quick Molds | Steel Molds |
| QCM Systems | Quick Die Molds | Steel Moulds |
| Quick Change Systems | Quick Change Molds | Mold Plates |