Precision Grinding, Inc. dba PGI Steel (PGI) is a custom steel processing facility and was established in 1971.  PGI Steel is a small business, locally owned and operated in the Oxmoor Valley area of Birmingham, Alabama.  For over 50 years, we have provided high quality products and services to the clients and industries we serve.  Initially, PGI focused on sharpening shear blades and the regrinding of all types of metal products for US Steel, such as welding dies and custom machine parts.
Today, PGI Steel is highly respected and successful custom steel processing facility serving over 2,500 machine shops and special machine builders.  Additionally, we house some of the largest Blanchard & Mattison grinding equipment and CNC machining centers in the southeast.  We also offer a wide-range of additional capabilities including: plasma cutting and plate burning, stress relieving, annealing, Blanchard grinding, precision surface grinding, CNC milling & turning and steel fabrication work at our two facilities. PGI Steel became an ISO 9001:2015 certified company in May 2020.
Serving Our Community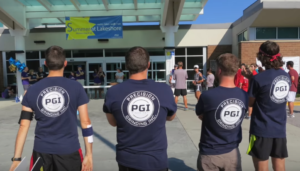 At PGI Steel, we are driven not only by our passion for serving our clients, but also for serving our community.  From volunteering in the community to sponsoring local and national organizations and events, giving back is at the core of our company culture.
We proudly support family-centered facilities such as The Kings Home, the Foundry Rescue Mission, and the Ronald McDonald House; healthcare and health-related research organizations like the University of Alabama Birmingham, Auburn University, and the American Cancer Society; service oriented businesses such as the Lakeshore Foundation, the Salvation Army, Magic City Harvest, Jefferson County Resource Recovery Center and the United Way; and our country's finest men and women as                                                                                                                                          part of the Wounded Warrior Project. Our most rewarding work is often done beyond the gates of our facilities – in the                                                                                                                                                    communities in which we work.
Do you want to join our team? Visit the Careers page to learn more!