Inspection and Measurement Equipment
Our finished projects go through a rigorous inspection and measurement process.  PGI Steel is proud of the quality of our work and the accuracy of the parts we provide.  PGI Steel has all micrometers recalibrated per our ISO 9001:2015 certified Quality Management System. Our inspection department maintains the integrity of all measuring & inspection equipment in the machine shop.
Our Measuring Equipment includes, but is not limited to, the following:
Renishaw Probing Systems – Accuracy specified to 0.0005" – .0.001"
Mitutoyo Profilometers
Inside / Outside Mics
Depth Mics
Vernier Calipers
Cal–X–Tenders
Digital Height Gauges
Dial Bore Gauges
Threaded Plug Gauges, Metric and Standard
Small Hole Gauges
Telescoping Gauges
Pin Gauge Set
Precision Jo-Block Set
Precision 24" Master Square
Precision Straight Edges
Master Setting Rings
Precision Granite Surface Tables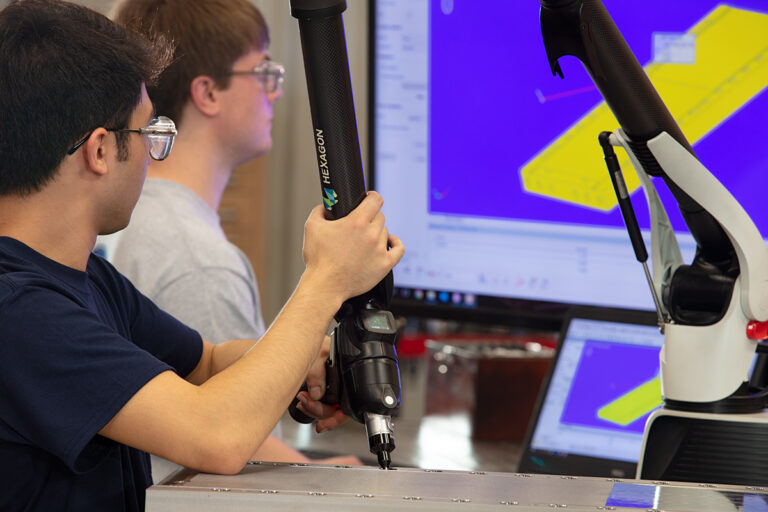 Did you know that PGI owns and uses a 7 axis Hexagon Absolute Arm© to validate and measure all of your parts?
Hexagon Absolute Arm – The Benefits of Precision
When it comes to quality control, PGI has invested in the best software, equipment, and trained personnel in order to set the standard for reliable high-accuracy point probe measurement!
We are proud to be able to use Hexagon's flagship non-contact measurement laser. It delivers established and reliable 3D scanning at high speed. A central feature of this amazing tool, is its wide scan line, which means parts can now be scanned with fewer passes and in less time. PGI's newest tool for inspection will not sacrifice greater laser width in order to achieve a higher frame rate.
Our 7 axis Absolute Arm consistently delivers the maximum frame rate at the maximum laser width with phenomenal probing accuracy. All this leads to higher quality and precision manufactured parts for you! Ask us today about how we can add this service for your upcoming projects.
General Tolerances and Measurements
Unit of Measure
The standard unit of measurement is inches.

Metric conversions will be made using 1″ = 25.4mm and/or 1mm = .03937″

The following tolerances are used unless otherwise specified on the customer's drawing:
Dimensional and Location Tolerances
| | | |
| --- | --- | --- |
| Decimal Precision |   | Linear Tolerance |
| .0000″ | = | +/- .0005″ |
| .000″ | = | +/- .005″ |
| .00″ | = | +/- .010″ |
| .0″ | = | +/- .015″ |
| Fractional (1/x) | = | +/- 1/32 |
| Angular | = | +/- 1 degree |
Machined Finish
Standard machined finish will be .125 RMS
Reamed Holes
Reamed holes will be machined to a Press Fit (PF) of .0005″ to .001″ under specified diameter.
Threaded Holes
Threaded holes will be chamfered major +1/32″ approximately 90 degrees from machined side

Full thread depth will be 1.5  x  Major diameter

Minor diameter will be drilled to 65% – 75% thread, depending on material machinability

Minor diameter will generally be drilled to [(full thread depth) + (tap chamfer length) + .100″] full depth

Thread fit will be 2B
Counter Bored and Counter Sunk Holes
ANSI standard, as per Machinery Handbook normal fit specifications, will be followed with depth altered to sink application bolt head approximately .015″ below flush
T-Slots
ANSI standard, as per Machinery Handbook normal fit specifications, will be followed.