Our History – Your FOUNDATION for Custom Steel Plate
J.T. Sudduth & William Cabaniss Years   
             Alabama small business, Precision Grinding, Inc. was founded in 1969 by J.T. Sudduth to recondition and regrind metal cutting knives for the steel manufacturing industry. William J. Cabaniss purchased the company in 1971, as the majority owner. Walter McCullers, who had been working for the previous owner, became a minority partner. In the early days, PGI Steel was a small company doing business under the moniker Precision Grinding. We were a small shop with only a few employees, but Cabaniss' objective was to grow the firm into a subcontract grinding service for other businesses by utilizing high horsepower surface grinding machines and equipment. In order to expedite this mission and vision, William Cabaniss erected a new production facility in the Oxmoor Valley, southwest of Birmingham, Alabama. The facility was completed in 1974 and further expanded to a total of 16,000 square feet by 1976. Along with the additional plant expansion, Cabaniss continued to add large surface grinding machines from Mattison Machine Works and Blanchard Machine Works. This helped PGI expand its market share for customers needing an established company to grind large metal plates.
               Precision Grinding, Inc. struggled in the early 1980's when a major downturn in the U.S. economy led to the closing of steel plants in Birmingham. At this time, Cabaniss realized that if the company was to survive, PGI would have to re-evaluate its customer base, as well as the primary industry it served. Cabaniss travelled throughout the Southeast, visiting plywood mills, appliance and automotive stamping facilities, machine shops and special machine builders, making them aware of Precision Grinding's capabilities. This proactive change of emphasis enabled the company to survive the recession in the steel industry.
               Cabaniss was active in politics and ran for the U.S. Senate against Howell Heflin in 1990. Banners were hung from the plant rafters and PGI became the location for the official kick-off rally. Walter McCullers retired in 1994 and Miles Cunningham joined the company as a minority partner. Andrew Cunningham joined the company as a minority partner in 1998. At this time, Precision Grinding was beginning its next expansion into other value-added services.
Enter The Cunningham Legacy – A Small Business Rooted in Family Values
                The owners realized the company needed to continue to expand its service offerings and improve speed of delivery to meet the industry's demands. Over the next several years, Precision's expansion led to such value-added services as CNC oxy-fuel plate cutting, plasma cutting, CNC machining, horizontal boring, stress relieving, annealing and fabrication. The plant facility was enlarged from 16,000 to 60,000 square feet. Through this expansion, PGI became a full-service plate processing company and a 'one-stop shop' for customers interested in fully machined, precision ground, or fabricated custom steel plates and parts. In August of 2006, Miles and Andy Cunningham purchased the remaining stock in the company from Cabaniss.
               In 2012, the company acquired an additional 75,000 square foot plant in Bessemer, Alabama. Known as our Kilsby Plant, this addition now houses our plate cutting equipment, several Blanchard and Mattison style grinders, fabrication, blasting and painting. The additional facility allowed us to move our plate burning equipment from Oxmoor in order to install our first large capacity bridge mill. This opened up new opportunities for our machining capabilities and further streamlined our production flow. In May of 2020, we became ISO 9001:2015 certified. This achievement was true team effort and we now officially manufacture custom steel parts at the highest level. During the summer of 2020, we installed a new large capacity Doosan bridge mill. With this new mill, our Oxmoor facility now boasts two large capacity bridge mills.
                Today, Precision Grinding, Inc. is now doing business as PGI Steel with more than 90 employees and annual revenues of more than $15 million. Although our predominant market remains in the Southeast, we serve customers in over 40 states annually. Our steady growth over the past fifty years has brought new clients, new team members, new equipment, capabilities, and expansion of our facilities. Today, PGI Steel is so much more than the grinding operations upon which we were founded. In addition to grinding, PGI Steel offers raw material, plate burning, custom CNC machining, fabrication, stress relieving, annealing, media blasting and painting. Our new name and logo better reflect the complete services we provide to our clients across our great Country.  
               To this day, PGI Steel's operations are located within two miles of the legendary Oxmoor Iron Furnaces, which were in production more than a century ago and within two miles of some of the original iron ore mines that supplied Birmingham's booming steel industry. Founded upon traditional roots and core values, PGI Steel is a beacon in the Southeast for multi-step processing of custom steel plate.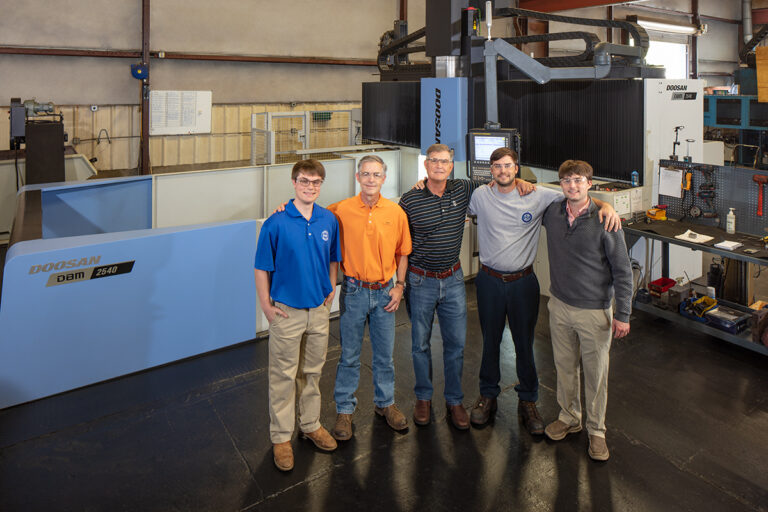 PGI STEEL MILESTONES
1971 – Company established with 9 employees, primarily serving as a knife grinding facility for steel mills.
1976 – PGI is the first to introduce large Blanchard Grinding services in the South.
1982 – US Steel shuts down operations. PGI introduces the largest surface grinding machine in the Southeast, diversifies and begins serving multiple industries.
1996 – Track burning operations added.
1997 / 1998 – PGI constructs additional 10,000 SQ. FT., housing additional plate cutting and machining capabilities.
2001 – PGI adds another 20,000 SQ. FT. to include stress relieving and annealing operations.
2003 – Custom steel plate fabrication introduced.
2006 – Ownership change after PGI is sold to Miles and Andy Cunningham. CNC Machining capabilities introduced.
2012 – Bessemer, AL facility acquired.
2016 – PGI acquires Performance Metals and assets.
2020 – PGI becomes ISO 9001:2015 certified in order to help us reach new heights in the industries we serve.
Today – With over 90 employees, PGI is one of the largest single source solutions providers for custom steel plate manufacturing.