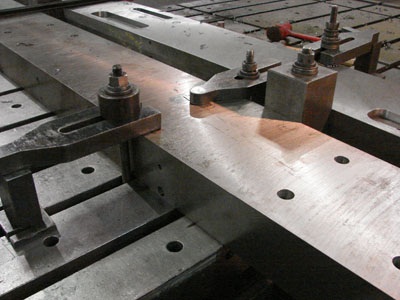 Among our other specialties, PGI Steel manufactures work-holdings for CNC machines or mills, such as machine work holding clamps, jigs and fixtures. Machine clamps, T-slotted fixtures, and jigs are used to achieve and maintain exact position on manual and CNC machines.
With a large inventory of ASTM A36 in stock, plate cutting tables, large precision grinders, G & L mills and large vertical and horizontal CNC machine capacity, we are able to cut, grind, and machine specialty tools for custom applications. Specialty blocks and slotted tools are required essentials for maintaining precision positioning on a T-slotted machine table. Whatever your custom steel tool requirements, we would like the opportunity to fulfill your requests.
These custom designed work-holding clamps, shaped like tuning forks, hold and support 5″ x 14.5″ x 240.5″ side frame plates onto one of our T-slotted bar mills. The T-slotted bar mill, machine table is 72″ x 144″. These top plates rotate 90° to the vertical  plane so that we can drill holes in either the x-, y-, or z-plane, dependent upon "in which orientation" the plates lie upon the mill. When completed, these 4340 quenched and tempered plates will have recessed through holes inside oblong shaped slots on the faces, and both ends and edges are to receive drilled and tapped holes of various diameters and depths.