Welding
---
Our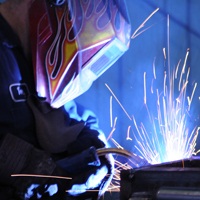 steel fabrication department has over 15,000 square feet dedicated to fitting, welding steel, assembling, and fabricating weldments and custom machines of all sizes. In addition to steel fabricating projects, we can handle your plate cutting, stress relieving & annealing, grinding, milling, and milling and machining requirements. Precision Grinding, Inc. is a supplier of custom steel plate products, including ground and machined steel plate products and special, one-of-a-kind fabricated steel products.
We combine experienced management and engineering along with certified welders to fabricate weldments of all sizes. Our CAD and Programming department can work with a variety of your electronic files, to format your project with critical accuracy. From the start of your steel fabricating project to finished piece, you will receive the highest degree of professionalism and expertise available. We strive to exceed your expectations.
When you need a precision steel base, machine base, precision steel table, steel workbench, welding table, or any other custom steel table or table top, please Contact Us for a quote.
With a large selection of alloy and carbon steel plate inventory available on-site, we manage your project with any or all of the following:
With a high rating for both customer satisfaction and on-time delivery, we handle every order with pride and attention to every detail.  Please call us for your next steel plate fabrication.
What is Welding?
Welding is a fabrication or sculptural process that joins materials, usually metals or thermoplastics, by causing coalescence. This is often done by melting the workpieces and adding a filler material to form a pool of molten material (the weld pool) that cools to become a strong joint, with pressure sometimes used in conjunction with heat, or by itself, to produce the weld. This is in contrast with soldering and brazing, which involve melting a lower-melting-point material between the workpieces to form a bond between them, without melting the workpieces.