CNC Machine Inspection Probe for Custom Steel Projects
A CNC Machine inspection probe is installed on each of our CNC machines. Touch probes on our CNC machining centers can be used to set-up parts, measure features in-cycle, and verify finished component dimensions.
Precision Grinding, Inc. proudly uses Renishaw Optical Machine Probes: Accuracy specified to 0.0005″ – 0.001″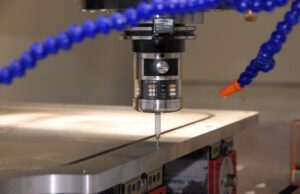 The Renishaw Optical Machine probe is part of a new generation of optical transmission machine probes that brings the benefits of probing to a wide range of machining centers. It provides users set-up time reductions of up to 90%, reduced scrap, reduced fixture costs, and improved process control.
An inspection probe is one of the ways we improve the efficiency and accuracy of our machine tools. By using it for set-up, on machine verification, measuring and locating we can:
Increase productivity and batch size flexibility
Reduce manual setting errors
Reduce machine downtime
Reduce scrap
At Precision Grinding, Inc. we periodically recalibrate our Renishaw probes using our set of Certified Master Setting Rings.
Several of our milling machines are equipped with Heidenhain Linear Encoders to further increase the accuracy and dependability of their measurement readouts.
Request a quote today and let us show you why more than 4,000 companies have chosen PGI for their custom steel projects!