Steel Bases and Steel Base Plates
---
PGI Steel is well known for manufacturing large machine steel bases and base plates that are flame cut to size, precision ground to thickness, and precision machined to specifications from on-hand inventory.
In-house steel fabricators manufacture base frames from structural steel tubing, steel bar, I-beam, channel, rail, pipe, leveling plates, base plates or from whatever is specified by the Design Engineer. Our machinists and welders have experience fabricating large weldments, building precision steel tables, robot bases & heavy machine mounting platforms, and constructing prototype machinery.
Precision Steel Base Frames, Tables & Platforms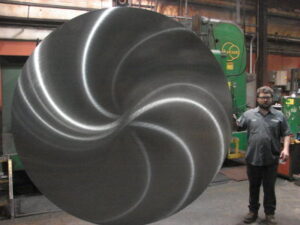 Machine Tables
Side Frames
Steel Platform Bases
Steel Table Tops
Base Pedestals
T-Slotted Bases
Machinist Workbench
Steel bases support specialty machines.  Large machining centers, CNC Machines, Boring Mills, Planer Mills, Lathes, Grinders, Turning Machines, and other specialty, steel processing machines rest upon large and thick steel bases, rather than directly upon the concrete flooring, in order to isolate vibrations while providing a flat & level floor.
Many bases consist of a one-piece, rectangular plate, ground flat and machined to specifications. Commonly referred to as floor plates or machine floors, base plates, sub plates, Sole plates, or machine foundations, these bases may be grouted into the concrete, bolted onto rails or installed above an open channel, concrete pit. Often times, when base plates are not on a steel frame, there are precision cut-outs, grooves, and holes for the specialty machine to mount to while bolting to a cut-out in the concrete floor, sometimes allowing for slot-ways for electrical, lubricating, and drainage pathways. Machined cut-outs, such as holes and slots allow precision bolting to the machine while supporting fluid travel to lubricate the machine while possibly draining excess fluids along with steel chips away from the cutting process.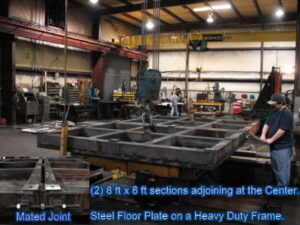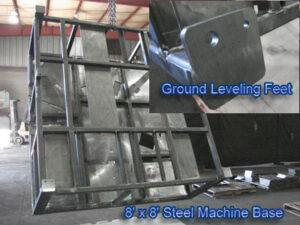 The 1.5″ thick floor plate above is welded to a 4″ structural tube base frame. Mounting feet or leveling feet can be welded to the base of the frame. Similar machine bases may be grouted into a rectangular cut-out in the concrete floor for a large piece of equipment to rest upon.
Many base plates that we manufacture are a single thick plate of steel, often up to 6″, 7″, 8″, and 9″ thick.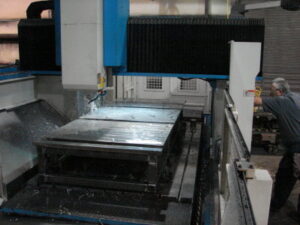 Sole Plates and Grout Plates
We manufacture solid steel base plates for pumps, motors, compressors, generators and other electric driven, diesel fueled, hydraulic or pneumatic machines that vibrate heavily or otherwise require a solid steel foundation. Any similar machine supporting steel base to be grouted into a concrete foundation is often considered to be a sole plate or a grout plate.