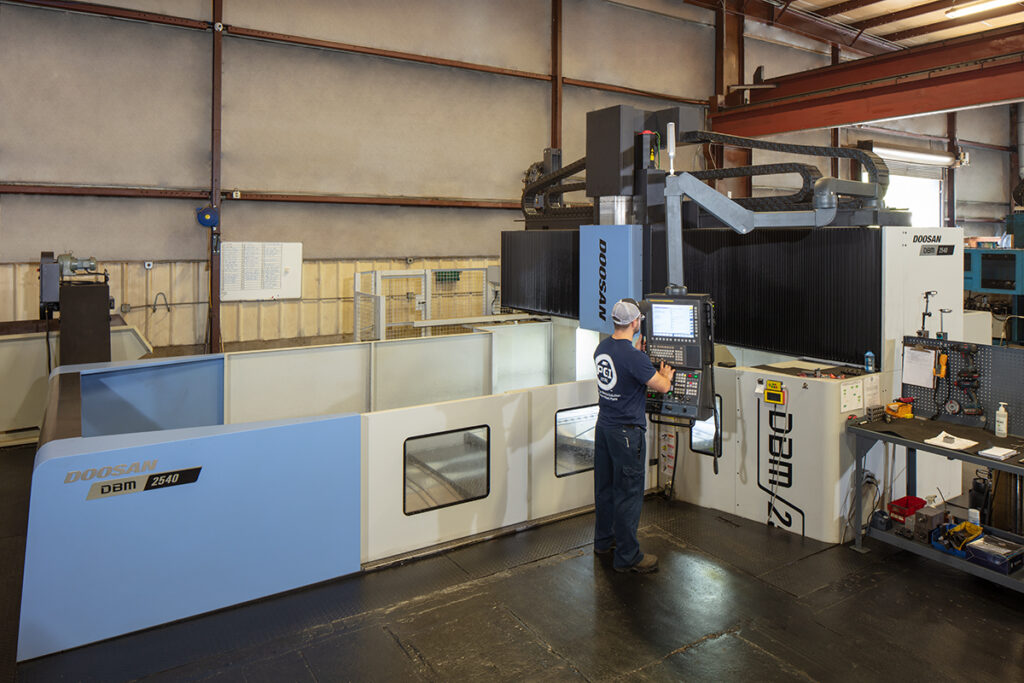 PGI Steel is a custom steel processing company that will celebrate 50 years of producing high quality steel products in 2021. The Alabama-based company caters to special machine builders, machine shops and tool & die makers, but the majority of their business consists of heavy-duty components for automation, construction, power generation, oil & gas, pulp & paper, government and military projects.
The company, which earned its ISO 9001:2015 certification in 2020, has long had big bridge and double column machines, but were looking for improvements in quality and overall performance.
Enter Doosan.
Moving Up to Doosan
Rob Russell, Manufacturing Engineering Manager, had used Daewoo equipment in the past and reunited with Doosan representatives during the 2018 IMTS show. He convinced the company's management that Doosan should be on their short list for their next big machine. They agreed. "We're very fortunate to have a management team that is willing to provide capital for state-of-the art equipment and listens carefully to the advice of the shop staff," he said. The decision was made to consider the Doosan DBM 2540 multi-purpose double column machining center for their next purchase.
The Doosan DBM 2540 is an absolute monster, specifically designed for applications such as heavy-duty machining of large parts. Designed with the highest specifications in its class, the DBM 2540 provides a broad range of machining capabilities, including optional spindle head attachments like a 90-degree right angle head.
Heavy Duty. Rigidity. Quality.
Since PGI is in the machining business themselves, a key factor in the decision for their next machine was a quality build. "Our guys build big, heavy-duty, rigid equipment every day and they know what to look for," said Brent Wilson, Marketing Manager at PGI. "When they looked at the Doosan equipment on the display floor, they saw a reflection of our own quality standards."
Customer service and technical assistance were also a vital part of the decision. In talking with the Ellison and Doosan representatives, the PGI team felt that they would be in good hands. This impression would be validated over and over during the installation and early operational period. It helped that the Ellison facility is only a few hours away in Nashville, Tennessee.
Advantage: Doosan
It wasn't long before the paperwork was signed and plans began to install a brand new DBM 2540 on the floor of the Birmingham facility. But with a machine this big, PGI had to do some prep work, digging and pouring a new foundation to act as a base. "It took over two months, a lot of work and 250,000 pounds of concrete," Russell said. "But we wanted a rigid platform to take full advantage of the rock-solid DBM 2540."
According to Wilson, Doosan and Ellison representatives were on site weeks in advance of the delivery, watching the foundation being laid and offering suggestions. "It really impressed us that they were on-site so early in the process," he said. "Installation can be a lot to handle with a machine this size, so we appreciated the extra attention."
The PGI team expected the setup would take eight to ten weeks, but it was only six weeks between delivery and the first cut. "We were even amazed how well the machine was packed and organized for delivery," Russell said.
"I can't say enough about the customer service we've received from Doosan and Ellison," Wilson said. "We get quick response on any type of question, no matter what it is. I'm a big fan."
Making Money on Day One
A lot of attention was paid to deciding who would operate the new machine. "We needed just the right person to make the first chips," Russell said. CNC Machinist Steven Layton got the call.
With Layton's experience and skill at the controls, the speed and raw power of the DBM 2540 gave excellent results from the start. For example, running parts for a stamping press line took 40 hours on the old equipment. Layton was able to shave 11 hours off the cycle time without even doing a lot of fine tuning.
The standard spindle speed on the DBM 2540 is 8,000 r/min. The 90-degree right angle head spins at 6,000 r/min. Thanks to the very rigid RAM design spindle, Layton also impressed one tooling rep with his ability to double the recommended speeds and feeds of a 30 degree 8" face mill.
Layton also likes the usability of the DBM 2540. "The Doosan Easy Operator Package allows you to partner with the machine, quickly fine-tuning the processes," he said.
With all the cutting capability the DBM 2540 brings to the table, PGI is focused on getting the best cutters they can find and pushing them to the limit for best productivity and efficiency. Having the confidence that the machine can handle everything the programmers can throw at it is something new to PGI.
Doosan Pride
For PGI, the DBM 2540 is a showcase machine – something that defines their capabilities. To highlight this fact, they even painted the floor around it in non-slip paint matching the Doosan colors. "I like to keep the machine wiped down and looking good after each shift," Layton added.
Difficult Times. Tough People.
The results PGI has achieved with their new machine are amazing when you consider that the installation of the DBM 2540 and the ISO 9001:2015 certification process were happening in the middle of a global pandemic. Even with all of this going on, the management and workers at PGI were able to find time to make components for respirator machines as well as components for machinery that are responsible for making N95 masks. At the same time, they were able to help out with critical infrastructure for power generation when fierce storms hit Nashville.
2020 has been quite a year for everyone, but PGI has taken it in stride. Most fabrication shops in the area closed facilities or furloughed employees, but PGI has kept every single person employed. In fact, they even added personnel staff during the summer months.
Whether you need a monster double column machining center like PGI, or are in the market for something a little smaller, contact us and our professional staff will match the perfect machine to your needs.
Source: https://www.doosanmachinetools.us/news/2020/pgi-steel-scores-a-doosan-dbm-for-massive-steel-components