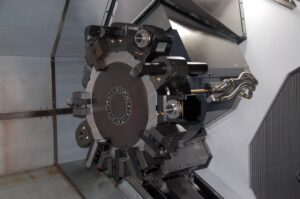 Precision Grinding adds a new CNC turning center with live tooling and Y-axis to its arsenal of custom steel manufacturing equipment. The new Yama Seiki CNC Turning Center will greatly expand the company's machining production capacity. The addition of this state-of-the-art turning center broadens Precision Grindings complex and accurate machining capabilities.
This CNC lathe has a turning capacity of 18.11" diameter over the carriage and 115.0" long.
The CNC turning center features a 12 station live tooling turret to allow true multi-tasking and allows multiple operations to be performed without removing the component from the lathe, improving accuracy and repeatability. With live tooling and Y-axis machining capabilities, this new CNC turning center greatly expands the capability of Precision Grinding to manufacture a wider variety of custom steel parts.