Sharpening Shear Blades, Machine Blades
and Mill Knives
---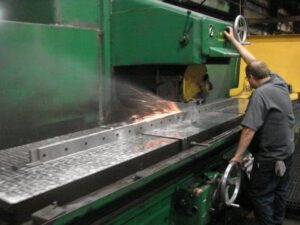 PGI Steel is known for sharpening machine blades and mill knives for paper mills, plywood mills, steel companies, machine shops, automotive manufacturers, industrial companies and manufacturing companies of all types across every industry. When it comes to blade sharpening, repair, or manufacturing, PGI is unrivaled. Please speak with a member of our technical staff to learn how PGI can help keep you and your cutting equipment efficient.
At times, supporting steel shims may be required to return your shears to the original thickness necessary to fit your machine. We flame cut or plasma cut shims from plate inventory, laser-cut / scissor-cut roll stock, machine bolt holes when needed, and grind shims when necessary to OEM machine recommended shear size and specifications.
With the support of experienced grinding department personnel and experienced machine shop machinists, you can count on us when you need any size or style blades ground, reworked and refinished to a near new condition and shipped to you on time.
Common names associated with these mill blades include:
Rectangular Shear Blades
Bow-Tie / Rake Blades
Paper Knife Blades
Machine Cutters
Industrial Shear Blades
Hydraulic Shears
Industrial Knives
Slitters
Slitter Blades
Choppers
Rolling Mill Knives
Common rectangular shear blade configurations and grinding requirements for sharpening include the following: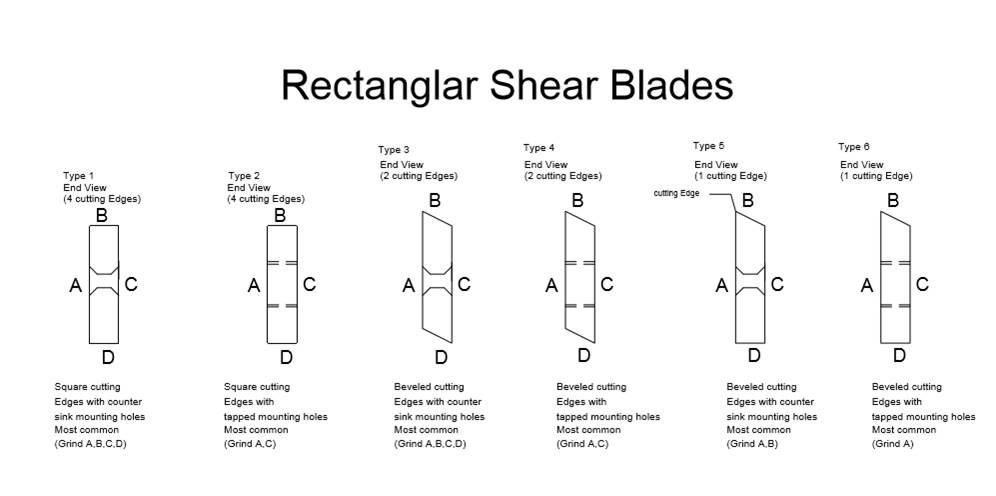 History of PGI Grinding
PGI Steel opened doors in Birmingham, Alabama in 1971 with four grinding machines. PGI's original business model targeted shear blade sharpening and today, we are one of the most recognized blade sharpening companies in the country. Call us today and let PGI put its more than 50 years of experience sharpening machine blades and industrial knives to work for you. 
Today, we operate many of the largest Blanchard & Mattison grinders housed within one company in America. Four of our Mattison grinders are for surface grinding machine blades to ± 0.001″ tolerances. Our largest Mattison surface grinder can handle steel parts up to 31″ h x 37″ x 200″.